Visiting the Commandeur des Arts et Lettres in his studio
Douglas Gordon does whatever he likes and he takes his art to the limits. His uncompromising style brought him the Turner Prize at a young age. Since then, the Scottish enfant terrible has been one of the most important video artists in the world. Now the artist, currently based in Berlin, was appointed Commandeur des Arts et Lettres, meaning he received one of the highest French Orders of Merit. I visited Douglas Gordon in his studio a while ago and talked to him about his work.

Douglas Gordon's studio can be reached via a typical Berlin courtyard. Here, behind closed doors, he and his team work on two floors – one of which is reserved for the artist. The large bright loft, with walls covered in photos, is unexpectedly tidy. In one corner stands a black piano – including a stuffed, headless wolf that Douglas placed on its glossy surface – waiting to be played by the artist. But before he does, he pushes the dead animal to the side, making as much noise as possible. A noise that gave me goose bumps, because the wolf's claws left marks on the black lacquer. Then Douglas gestured for me to take a seat on top of the musical instrument, now covered in thin, long scratches.

The beautiful grand piano …
Douglas Gordon: Darling, I've been doing this for years!
Well then …
Douglas Gordon: I want us to sit up there!
Well, if that's all I have to do to get some answers …
I get on the piano stool and then sit down on the piano. Douglas sits down beside me.

Douglas Gordon: Inadvertently I played with the left foot exactly the same sound as with the right! I swear I haven't sat here and practiced it!
Impressive.
Douglas Gordon: Yes, right?
Indeed. You come from Scotland, have lived in London for a long time, so why do you have your studio in Berlin?
Douglas Gordon: The great thing about Berlin is that I can do whatever I want. And I love that I work harder than anyone else who lives here. Working hard is a passion of mine. One of my passions.
It actually seems as if the studio is your playground.
Yes, it is. It's a place where you can test yourself, experiment and try everything out. If, for example, my friend James Franco visited me here, we would experiment just as we both do today.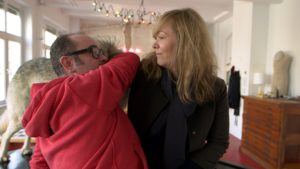 You burned the faces of pop stars in your art and made them zombies. Do you want to deliberately provoke?
Douglas Gordon: I don't know exactly whether I like the word provocation. I don't like being provoked. This awakens pretty nasty memories of nights in Glasgow at the time. There is usually nothing good about provocation.
Nevertheless, you have a piano set on fire for your video installation
The End of Civilization
on Scottish borderland …  
Douglas Gordon: I think you think about this self-destructive "let's burn down the White House, let's set things on fire" – but that isn't what interests me; I set things on fire, I flush things, but it's no big deal – I only make my silly works of art!
Do you want to cross borders with  your art?
Douglas Gordon: I am a very free person, I am lucky to be surrounded by people who support me; I see no great difference between art and the rest of the world.

That he doesn't draw a difference between art and the world is exactly what Douglas has demonstrated during our visit. Our interview turned into an improvised game over several hours, which can only be reproduced inadequately here. The props: handmade over-the-knee boots, from one of the best shoemakers in the world, that Douglas has used for a performance; an axe; a stuffed wolf; and, of course, the black grand piano.

If there was a prize for the most unusual atelier visit, Douglas Gordon would rake that one in too.
(Visited 141 times, 1 visits today)