Neo Rauch – Comrades and Companions
Neo Rauch is one of the most important German painters of our time – and well known for being camera-shy. But he let director Nicola Graef into his studio anyway. Her documentary Neo Rauch – Comrades and Companions, created over a whole three years, gives an unusual insight into the work of the Leipzig artist. No wonder then that the resulting film was duly celebrated by six hundred invited guests at the Berlin Kino International premiere. BOX IN A SUITCASE talked to Nicola Graef about her film – and Neo Rauch.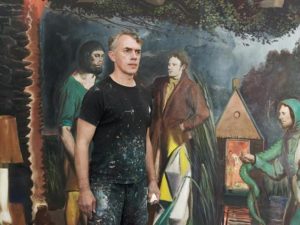 Neo Rauch in his studio. Picture: Lona Media
YOUR FILM IS CALLED
Neo Rauch – Comrades and Companions
–  what is wrapped up in this title?
Nicola Graef: I wanted to show the special cosmos of Neo Rauch. His comrades and companions are, on the one hand, the figures in his paintings, which even haunt him in his dreams at night, and, as he says, won't leave him in peace. On the other hand, it's about real people who are constants in his life. Of course this includes his wife, the painter Rosa Loy, but also others who've been around for a long time, like his gallerist Judy Lybke, his lithographer and some of his collectors. Neo Rauch is a very loyal person.
Why did you feel it's important to capture him in a documentary? What makes his art so fascinating to you?
Nicola Graef: His art has always touched me in a curious way – in a haunting but not always traceable manner. The lone figures – lost in reverie, the peculiar atmosphere, but also the great sensuality. All of this sparked a lot of emotions in me and I wanted to get to the bottom of these feelings by dealing intensively with the painter and his work. Fortunately, the documentary gave me this opportunity.
Neo Rauch doesn't like being in the spotlight – how did you convince him to let you film him while he's working?
Nicola Graef: I think it's a mixture of trust, which has grown over many conversations and encounters with him and his wife, and personal sympathy. I told him from the start that I'm interested in examining his art; I didn't want to spy on his private life. I respect privacy very much. Other than that he probably liked my films: he told me that after seeing my documentary about the late painter Jörg Immendorff, he couldn't sleep. In the end, however, it's also simply normal human reactions that are at play: we quickly found a very open and relaxed conversational atmosphere. I didn't present myself as his admirer; I was just a counterpart who wanted to deal with the content. In the end my small team and I were in his studio again one day and we just stayed and then he also realized that we were really trying to be almost invisible.
WHY WOULD YOU NEED TO TURN A FILM OVER NEO SMOKE – WHAT DOES IT
What did you learn from Neo Rauch and what was the most surprising experience while filming with him?
Nicola Graef: I was very fascinated with how he handles time. His deliberation, his calmness, his concentration on the canvas. The creation of an image without concrete models or references. The mood in the studio had a quiet exhilaration about it. I liked that very much. At the same time, it's also crazy to lead this life. Every day alone in the studio with several canvases that you have to bring to life. It's is an unbelievable task that an artist has to take on for a lifetime.
How did Neo Rauch react when he first saw the film?
Nicola Graef: He didn't see a single second of it until the premiere and so we were both very excited. But he liked the film and now he's seen it a few times and seems to like it more and more. Luckily.
Neo Rauch – Comrades and Companions

will be in cinemas from 2 March.
(Visited 266 times, 1 visits today)