The floating piers – Christos intriguing invention
Christo's latest intriguing invention, The Floating Piers on the Lago d'Iseo in northern Italy, was among the artistic highlights of the past year. The kilometre-long path of floating walkway on which we could walk across the lake was simply impressive. It lay on the water, promising and sparkling like the sun's golden rays. In just sixteen days, 1.2 million people crossed the work of art that 81-year-old Christo seemed to have conjured from nothing.
The Floating Piers inspired us, not only because we were able to participate in this extraordinary experience, but also because Christo's projects always provide a breath of freedom. His works are not for sale, no one can possess them. They come about and exist only for a moment. All that remains is the memory of collective astonishment.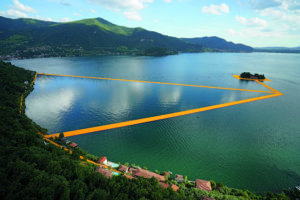 FREEDOM – CHRISTO'S HIGHEST VALUE
Christo's works may be dreamlike, but a lot of sweat goes into them. The Floating Piers could be made according to Christo's exact vision only after several years of preparation – made out of 220 000 plastic cubes, to be exact, which were specially produced and assembled for the project. The cost came in at 15 million euros. The project was financed exclusively by the sale of Christo's pictures, guided by his "Freedom" theme.
In an interview with ARTE's Metropolis, the artist enthused, "The enormous passion and cautiousness of the people! I was blown away! No one complained. The people stood and waited to walk on the piers. And this is perhaps the most beautiful thing about the project: we let 1.2 million people walk in order to go nowhere. They didn't visit a friend or go shopping … they went nowhere."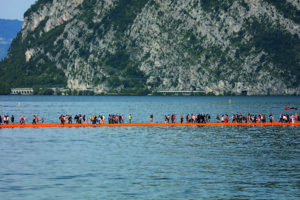 Christo recently spent two hours signing copies of the book to his breathtaking project in the TASCHEN flagship store. (Win your copy here.) And, naturally, the Berliners were queuing. You can find impressions of meeting the great master here.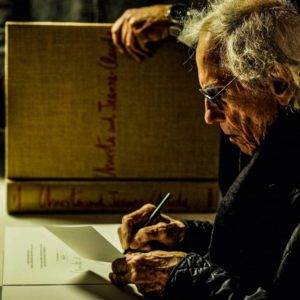 (Visited 87 times, 1 visits today)