Her role in Breakfast at tiffany's made Audrey Hepburn immortal
Audrey Hepburn is one of the best actresses in film history and is still considered a style icon. This is above all due to her performance as Holly Golightly in Breakfast at Tiffany's, a film that was adapted from a Truman Capote novel and made Audrey immortal. Since she first appeared on the cinema screen, women all over the world have dreamed of a breakfast visit to the famous jewellery store.
Audrey Hepburn's son Luca Dotti shares his mother's breakfast secret
Privately, Audrey Hepburn actually had a far less decadent breakfast ritual than the film title suggests. Her son, the graphic designer Luca Dotti, recently published a book of recipes with personal photographs of his mother entitled Audrey at Home. In it he reports that "La Hepburn" was usually very pragmatic when it came to the first meal of the day. Driven by a fear of failing on set, the actress rose between four and five every day to prepare herself. Breakfast was a priority, even if it was relatively spartan: two boiled eggs, a slice of wholegrain toast, three or four diluted cups of coffee – and the necessary updates from the family.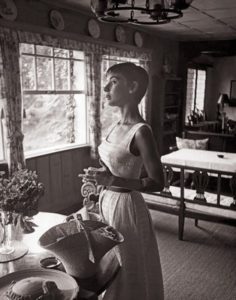 On Box in a suitcase Luca reveals Audrey Hepburn's favourite recipe for Madeleines
Only on Sundays or after returning from a voyage did Audrey Hepburn make an exception. Then the Dutch Calvinist, quite unusual for her, enjoyed a small luxury: breakfast in bed. A reward that included "homemade madeleines, quince jelly, or cherry jam, along with toast, coffee, milk, butter, a small rose from the garden in a tiny vase, and on the side of her tray the International Herald Tribune." Luca Dotti has given us the recipe for his mother's breakfast-madeleines – so that even without a visit to Tiffany's, we can feel like Audrey Hepburn for a few minutes.
AUDREY HEPBURNS Madeleines (yields 12)
For those who don't know what a madeleine is, Luca Dotti gives a short introduction to the small cake's history: they became famous when Marcel Proust mentioned them in his legendary book Remembrance of Things Past. Audrey Hepburn's version of the madeleine, on the other hand, was not classically French but rather more influenced by Anglo-Saxon muffins.
Ingredients:
70 g flour, plus some for the madeleine tray
50 g sugar
5 g yeast
1 egg
2 tbsp (30ml) milk
50 g melted butter, plus some for the madeleine tray
Madeleine tray or muffin pan with 12 cups
Preheat the oven to 200°C. Line the muffin pan with paper cups or butter the madeleine tray and then dust it with flour. Mix the flour, sugar and yeast in a bowl. Whisk the egg with the milk and the melted butter and then add it to the flour mixture, mixing well. Cover the bowl with foil and refrigerate it for 30 minutes. Fill the cups with batter; muffin cups should only be half full. Bake the madeleines for about 20 minutes until golden brown. Remove them from the tray or pan and leave to cool before serving. To give them more flavour, replace one third of the flour with cocoa powder or mix chocolate chips into the batter.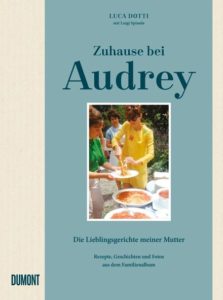 (Visited 533 times, 1 visits today)