MANEGE FREE FOR THE 25HOURS HOTEL
A bathtub on the balcony, a stuffed animal on the bed, cage bars in the elevator – the 25hours Vienna Hotel is located in the 7th district in the immediate vicinity of the Museumsquartier. It is accommodated in a former dormitory. Together with director Fanny Holzer, the owners try to anchor old Viennese circus tradition in the consciousness of the guests. After all, Vienna was one of the first circus cities along with Hamburg and Paris. Air shows with zeppelins, re-enacted sea battles and animal hunts up to the Kahlenberg once provided entertainment for the Viennese next to the famous Prater.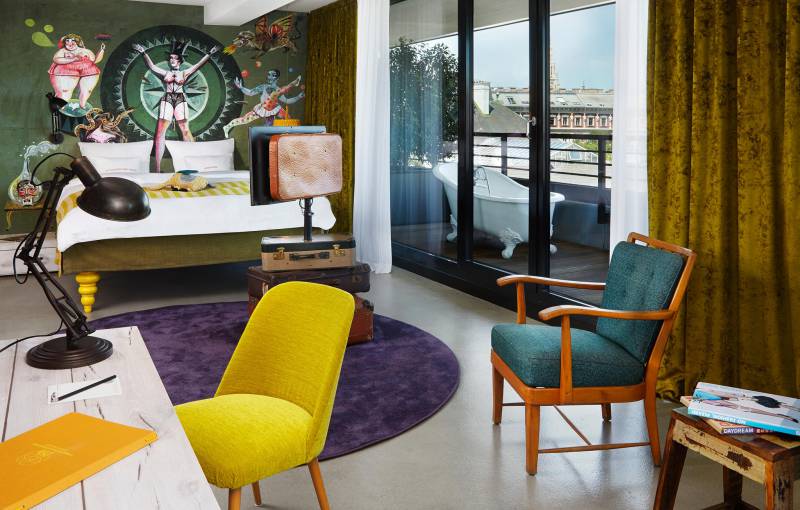 STAR ILLUSTRATOR OLAF HAJEK PROVIDES FOR THE CIRCUS FLAIR IN THE 25HOURS HOTEL
For the individual furnishing of the house, designer Armin Fischer spent months searching Europe's flea markets for antiques in order to bring Viennese circus and spectacle history closer to the guests by means of the furnishings. The illustrator Olaf Hajek painted typical Viennese stories, such as the one of the bearded woman, on the walls. For Director Fanny Holzer, the fact that around 90 percent of the guests in the hotel bar are locals shows that the Viennese still appreciate good entertainment.
THE BOX IN A SUITCASE HOTEL HIGHLIGHTS FOR VIENNA:
Turn the district into a hotel room with the Urbanauts
Slip into someone else's skin at Chez Clichy
I visited the 25hours Hotel in Vienna as an author for the in-flight magazine of the airline Germanwings.
(Visited 8 times, 1 visits today)