Nova Heart's electropop is dark, sexy and beautiful. "Music Karl Lagerfeld would be proud of", was Vogue's judgment of the Beijing band's gloomy-glam sound. A judgment that BOX IN A SUITCASE can only support. In fact, Nova Heart can do much more than just glam.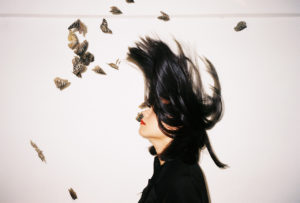 Music for sleepless nights

Nova Heart's music doesn't belong in the club; it's the soundtrack for your way home in the early morning hours after a night out. It's the music for a walk along the transvestites' strip. It reminds you that every high is followed by a low, that you pay a price for every pleasure – another thing the music shares with wild nights out in the city.
Maybe that's why the band around the former MTV-starlet Helen Feng is gaining more and more fans in Europe: they're surrounded by a sexy, wicked, yet aesthetic atmosphere. Or maybe it's simply because they guarantee a theatrical stage show: perhaps the best way to describe their live performances is that they're like a church service in which something goes terribly wrong.

Though infused with pop influences, Nova Heart's music also has a certain melancholy, a certain mortality. The best example is the video to last year's single "Lackluster No.", in which Helen Feng arranges her grooming tools on a silver tray before applying her make-up, just like a surgeon arranges his instruments before an operation.


In the mood for love 

The song "Lackluster No." stands for Nova Heart's sound. It combines New York's edge, Chinese traditions, 80s sound references and the typical Wong Kar-wai In the Mood for Love vibe, a certain solitude that permeates the highly aesthetic sequence.

This mixture is no accident. Feng was born in China, moved with her parents to the USA as a child, and a few years ago she returned to Beijing. Now, with her music, she wants to explore her own fears as well as the demons of Chinese society. The fact that her songs, especially their lyrics, sound quite catchy and not very rebellious is mainly due to Western listening habits. In Beijing, where artists who criticize the regime can run into serious trouble and Internet communications are still limited, it's not the text, but above all the sound of Nova Heart that transports new ideas.
(Visited 110 times, 1 visits today)