Jarvis Cocker plays the fairy uncle
Jarvis Cocker is a great storyteller. He tells the most beautiful story at the end of his new stage show, Room 29, created with his friend Chilly Gonzales. The story is about an old couple that came across the ex-Pulp frontman's path in a restaurant in Los Angeles, in an area where the zeitgeist shows its most distasteful side.
Ice cream for the main course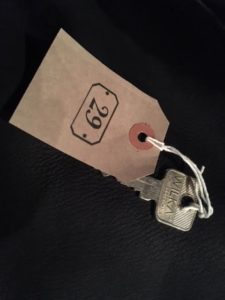 Cocker is sitting in a restaurant – the only joint around that seems to have a certain sense of tradition – as an old couple comes in the door. The two are very stylishly dressed, the old lady is wearing a long dress and sunglasses. To Cocker, both of them look like the last witnesses to a long past Hollywood era. He watches as they order countless dishes from the menu, until the entire table is covered with plates, to then indulge themselves by consuming everything at the same time – even the ice cream. Jarvis Cocker tells how he would have loved to go over to thank them. Just for their existence. "But," he says, "I could not; I'm British, damn, so I wrote a song instead."
Chateau Marmont
It is just a tiny anecdote from a series of stories that are given to this evening. Humorous stories full of glamor and solitude that revolve around the journeys of the two musicians, but above all the Hotel Chateau Marmont, more specifically the room numbered 29 and all the events that have spread over the years.  
A place that writes itself – after all, the Chateau Marmont is a place to cross paths with strange realities and it has always inspired writers, artists and musicians. And so, with short video clips interspersed throughout the show, the two performers, on a stage designed to represent Room 29, can make their way through a repertoire of songs and legends, which in their sum are also a homage to that hotel where the whole of Hollywood has stayed.
An entertaining intermezzo
It's an entertaining, charming and elegant intermezzo, between the self-declared "genius" on the piano, Chilly Gonzales, who contributes melancholic yet catchy melodies, and Jarvis Cocker, who takes the audience along with his deep voice, subtle irony and British humor. All with such playful lightness, that you can't shake the impression that the two really just wanted to hang out with each other and have some fun. But they certainly don't reach the limit of their talents with Room 29.
The album Room 29 is now available. Watch the beautiful concert online on Arte 
(Visited 83 times, 1 visits today)