If you're in Paris this month, you have the chance to see an extraordinary opera that just had its French premiere at Palais Garnier. Extraordinary not just because Only the Sound Remains achieves an unusually modern effect with its abstract black-and-white scenery and the reduction of the players to only two singers and one dancer, but also because the singers fill the space and are able to hold our attention as if they were a complete ensemble. 
And why wouldn't they? One of singers is, after all, Philippe Jaroussky, probably the most celebrated countertenor of our times. It has to be said: hearing him live for the first time is a memorable experience.  The voice of the acclaimed singer floats through the room crystal clear and bell bright, apparently effortlessly reaching even the places up on the balcony; one doesn't have to be an expert on opera to hear that something outstanding is happening.
Dissolving any gender boundaries, Jaroussky sings in a way few women could ever sing, and looking at him it's likely that some experience moments of irritation, asking themselves if this tender voice really can arise from such a masculine body. And that's not the only thing that is modern about Jaroussky. Compared to other singers he works with very reduced facial expressions and gestures. He is, in short, a countertenor who is as cool as it gets.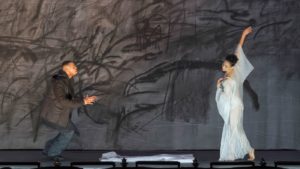 But back to Only the Sound Remains, which brings together two short operas: Always Strong and Feather Mantle. Both have a narrative as reduced as the rest of the production and both are inspired by two plays from Japanese Noh theatre: Tsunemasa and Hagoromo. Always Strong tells the story of how after a violent death in combat, Tsunemasa's tormented ghost appears before the court: his spirit was deprived of the happiness of playing the flute, an instrument from which he once drew enchanting sounds. In Feather Mantle, a fisherman appropriates a mantle he finds hanging from a branch. A young nymph asks him to give it back so that she can return to heaven. In exchange, she offers to dance for him.
An evening full of elegant simplicity, both dark and light, fragile and strong. The production's strong effect is supported by its contrast to its surroundings: the spectacular and pompous Palais Garnier with its red velvet boxes and the impressive ceiling, painted by Chagall, which the building is so famous for. 
For everyone who can't afford the often also spectacular prices: The Paris Opera is selling 10 euro last-minute tickets a few hours before the curtain call. But even if you aren't able to get one of these tickets, take note: to hear Philippe Jaroussky sing, especially at the Palais Garnier, is worth every penny. 
(Visited 70 times, 1 visits today)