While fashion lovers might still consider Antwerp the home of Belgian fashion and design, Brussels has secretly become a fashion city in its own right over the last decade. And that is why – in addition to a very lively fashion scene with lots of designers – a fashion and design platform of merit, namely MAD, has started ambitiously to brighten the future of fashion itself.

The institution hiding behind this ambiguous name has taken on an important role in the Belgian capital's fashion industry. While Brussels is emerging as a place where creative industries can thrive, MAD is committed to connecting players in the fashion and design sectors as well as public authorities and citizens, and it aims to create new opportunities on a global scale with partners worldwide.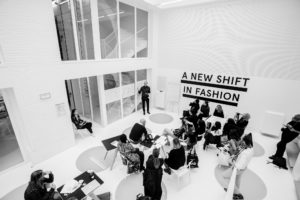 "It is essential for us to show the world the specificities of our creators and designers. Our ultimate aim is to become the focal point in Brussels for the design and fashion industry, to connect and create interactions between creators and entrepreneurs and accompany them in their development and allow them to live off their talent and passion," says Philippe Close, President of MAD.
But what does that mean exactly? To answer this question, one just has to pass by the modern all-in-white building on Place du Nouveau Marché aux Grains that MAD recently turned into its new home, making it the working place for a team of twenty people. Here they want to continue to expand their impressive support for young, independent designers – support which over the last years has become an achievement in and of itself.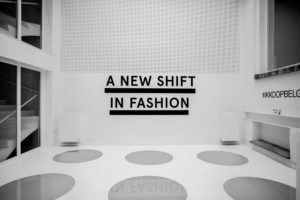 For the past five years, MAD's job-coaching team has supported over 600 project initiators. They organized 37 seminars with more than 2300 attendees, offered specialized support for over 400 job seekers and created a network comprising 300 employers. Since MAD is aware of the fact that the influence of the design sector is no longer limited to itself but can have an impact on social topics too, they also engaged in the Brussels Design Week, which featured the work of socially relevant designers like Annelys de Vet, who founded the design label Disarming Design from Palestine that develops and distributes useful designs from Palestine.
To see the manifestation of all their engagement, I can recommend a glimpse into the in-house pop-up fashion showroom where they put on a yearly exhibit of the latest designs by their former protégés, like Gioia Seghers who launched her label in 2013 and has already won the acclaimed Weekend Fashion Award, the Grand Prix de La Libre Essentielle, the RA Antwerp prize and the Prix Dior.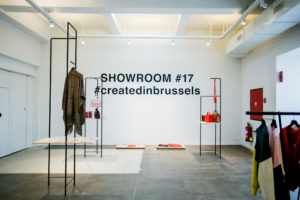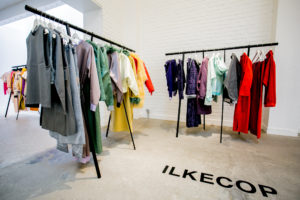 And while MAD's past achievements are displayed on the ground floor, the team upstairs is already working on their next big vision: A European fashion platform that aims to build intercontinental connections and cooperations throughout the fashion world. A promising project for which they have already won support from several European fashion institutions, from Finland to Portugal. The heart of this new project led by MAD will of course be – following the old European tradition – in Brussels.
(Visited 82 times, 1 visits today)