The kitchen as personnel department
I'll never forget how impressed I was when I first visited Olafur Eliasson's studio a few years ago. The light fell into the ample, old factory rooms, the ideas floating in the air were almost palpable, the bustling atmosphere inspired. But the thing I remember most clearly is the long kitchen table at which the whole staff eats every day. Since then, Studio Eliasson has not only maintained this tradition, but also expanded it.
For Olafur Eliasson, his studio's kitchen is like a personnel department. It's a place where his employees argue and throw each other with food but also hold hands and look each other in the eyes, as the Dane once revealed to Freunde von Freunden, who provided great insight into the team's workspace.
Cook like an artist
The Nordic artist, who has always been concerned with the interaction between man and matter and the various elements, is all about transforming food into real art. In his younger sister Victoria Eliasdóttir, who opened Restaurant Dottir in Berlin a while ago, Eliasson found an ideal sparring partner. With her help, the busy Eliasson has now released the collected vegetarian recipes from his studio kitchen.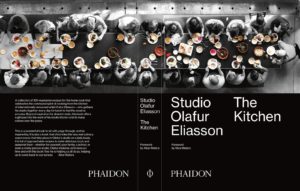 The kitchen: Vegetarian recipes from Olafur Eliasson's studio kitchen
That a cookbook by Eliasson will be no average cookbook is obvious. And so The Kitchen is also a small work of art – including some reflections on the topic of body awareness.
The elaborately designed book includes many pictures and provides insight into the everyday life of the artist and his team. It almost makes you feel as if you were sitting at the lunch table in Olafur Eliasson's studio.
The American cook Alice Waters, who wrote the preface for The Kitchen, happened to expierence her first time at Olafur's just like I did. She also enthuses in the preface to The Kitchen about the atmosphere that dominates Olafur Eliasson's studio. Can this magic translate into our own kitchens when we cook his receipes? We'll have to see …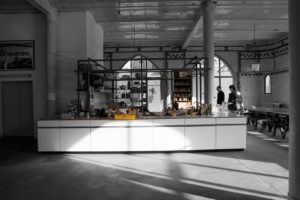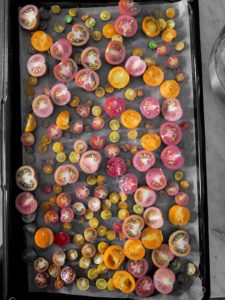 (Visited 261 times, 1 visits today)