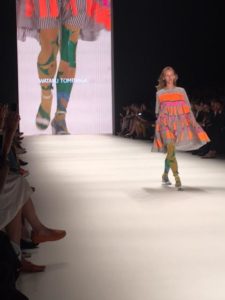 Vibrant colours, experimental cuts and pithy fabrics: Wataru Tominaga is here to bring more colour into the world of fashion – especially men's fashion. The Japanese designer's premiere at the 2016 Berlin Fashion Week, featuring fabrics with his own complex pattern designs for his idiosyncratic and colourful pieces, proved that fashion is an art form. His designs even triggered a kind of wanderlust in me – with just a little bit of imagination, his designs can suddenly make you see all the continents on earth.
Wild patterns and fringe trousers
In the wild mixed styles of Tominaga's collection, you can also – naturally – find references to his homeland. Japanese culture, especially Japanese avant-garde fashion, is clearly visible in the voluminous cuts, which, though modified, still evoke his ancestors' traditional kimonos. The colour scheme, however, seems almost South American and the connection to fringe trousers made me think of traditional African dress, making Tominaga's fashion show an exotic experience. Others saw it differently, thinking more of the hippies of the 70s and nerd stereotypes of 80s cinema.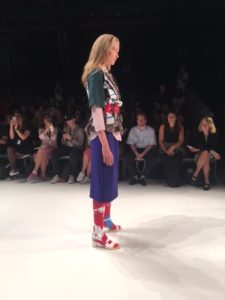 Wataru Tominaga's Fashion is an adventurous Experiment  
His designs are definitely rocking it: despite much experimentation, Wataru Tominaga's collection looks like Paris, Vogue and catwalk. And fortunately his work avoids looking like Carnival in Rio, a risk which the designer, who studied in Tokyo and at the prestigious Central Saint Martins in London, dealt with successfully in his collections so far, including the one he presented in Berlin in 2016. His recipe: mixing in simple shirts and sweatpants here and there among the edgy designs. In keeping with the idea of clothes representing different parts of the world, these pieces would stand for Europe and the USA. Wataru Tominaga is definitely a master of the crossover, balancing lightly on the thin line between fashion and art, and also continuously blurring gender lines.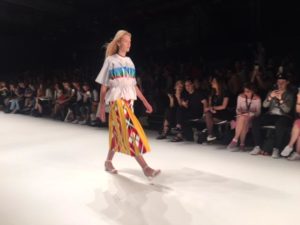 Worthy of Awards
Tominaga clearly has a great career ahead, and not only because of his exciting handwriting. The Japanese designer has gained experience at John Galliano in Paris, Bless in Berlin and the Eddie Peake fine art studio in London and already won several prestigious awards. In 2016 he won the prestigious Première Vision Grand Jury Prize at the 31st International Festival of Fashion and Photography in Hyères. I'm sure more awards will follow. For me, Wataru Tominaga was one of the clear highlights of the 2016 Berlin Fashion Week. I truly hope we'll see his wonderfully individual outfits in the fashion magazines' glossy spreads more often – on all the continents.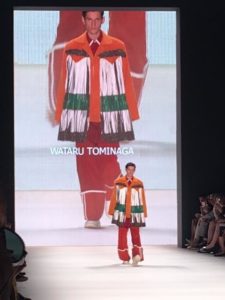 (Visited 72 times, 1 visits today)