Dining with the chef Joé Avillez
José Avillez is the only chef in Portugal who was born and raised in the country and has been awarded with not just one but two Michelin stars. That made him a celebrity in his country – which he deserves, since he's a) very successful and b) a real artist in the kitchen. In addition to his star restaurant Belcanto, he opened five more restaurants in Lisbon within the last few years. A look at his gastronomic mini-empire makes it clear: José Avillez is proof that with enough creativity even the crisis Portugal has suffered under so much can be mastered successfully – at least sometimes. BOX IN A SUITCASE met with the chef in his hometown of Lisbon.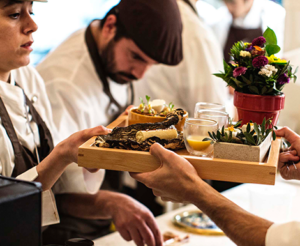 When did you decide to become a chef?
José Avillez: I started to cook at the age of ten and I baked cakes with my sister. Instead of completing a cooking course, I first studied communication sciences. It was only after my studies that I decided to become a cook.
What fascinates you about cooking?
José Avillez: For me, the biggest challenge is to combine different ingredients: I want to be able to get culinary variety even in the different seasons. Above all, it's a great feeling to give joy to people through the food that I prepare.
José Avillez supervises a team of 170 people. Picture: José Avillez
What is the biggest challenge in your job?
José Avillez: I try to improve every day: to learn something new, work with new ingredients or prepare something new.
What motivates you?
José Avillez: Everything went very quickly in the past. Within only three years we opened six restaurants and got the two Michelin stars, which was very important for us. But the most important thing is that the people who are sitting at our tables can enjoy our dishes. For me it's the most beautiful moment of the day when my guests try something new and I then see smiles on their faces. This is more important than any prize, more important even than a Michelin star.
What was it like when you got your first Michelin star?
José Avillez: The Michelin guides have been around for a hundred years. Inspectors visit the restaurants and test the food: they mainly check the quality and the consistency of the quality. Once a year festivities take place and there they make public to whom they award the stars. Getting two stars was a very special moment for us. But I always try to stay calm with such news, because, even if it is very important, one should not forget that a star also stands for a new era. An era with more work, more responsibility and more pressure. Unlike the Olympics, where you have a gold medal that you can hang on the wall, and there it then hangs forever, they can take away your Michelin star every year. So you have to go further, work harder and get better and better to make sure that this will not happen. All in all, it's more important to take care of the people who come to us, to make sure they have a good time, than to hunt for a star.
Belcanto. Picture: José Avillez
That all sounds as if it has gone quite well for you. Were there no moments when you were really in trouble?
José Avillez: You just have to look at me, at my face, and then you know that not everyone says yes to me. Many things happen at the same time, which I have to control as an entrepreneur and, most of the time, when I have a new idea, I hear quite a few noes before someone says yes. It's important that I stay relaxed and simply do my best – with the help of my 170 people. Thanks to them, everything is going very well.
What does one need to build a successful business?
José Avillez: Nothing goes without passion. You have to understand the result as a dream that becomes true – and of course you need a good, trustworthy team. You can only get the best results by having the right people on your side.
They say that you bring Portuguese cuisine to a different level …
José Avillez: That does not come from me, that's what other people are saying. But of course, I try to work with Portuguese flavours; a few Portuguese dishes are on the menu, but we have a lot of different restaurant concepts – you can't reduce it to Portuguese cuisine.
What defines contemporary cuisine?
José Avillez: It's difficult to say what modern cuisine is at all. Just because something is modern to us, it doesn't have to be in other countries, necessarily. The cuisine of every country is like its own language: the Spanish cuisine, the Italian or the Nordic cuisine. The new kitchen … I think the nouvelle cuisine of the late 1960s might have given an impulse that chefs crystallized into different ways in which one can prepare food. We use new technologies, new ovens and different temperatures, we are constantly developing new ideas, concepts and dishes – that's the artistic side of the haute cuisine and the results that arise here could be called the modern kitchen.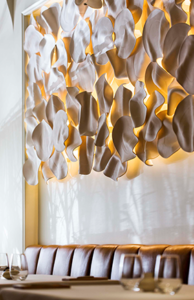 (Visited 133 times, 1 visits today)