José Avillez is the only Portuguese two-star chef in Portugal and a celebrity in his hometown, Lisbon. In addition to his award-winning restaurant Belcanto, he has opened five more restaurants in the city. He travels extensively to find ideas for new dishes and collects inspiration for his restaurants on his numerous journeys – but his big love remains his city on the Tagus river. He talked to BOX IN A SUITCASE about the most beautiful aspects of Lisbon.
What inspires you in Lisbon?
Lisbon is a great inspiration for me: the light, the shadows it throws, the people who work at the port, the painters, the writers; sometimes everything I see around me inspires me , but there are times when I find it hard to be inspired by my environment. It always depends very much on whether I'm open to trying something new.
The most beautiful light can be found in Lisbon. Photo: José Avillez
You work  abroad often – why did you decide to stay in Lisbon?
This is my country. My city. I grew up near Lisbon by the sea. When you create dishes and cook modern cuisine, it has to have a soul, you should be aware of what you are doing and all my childhood memories – my grandmother's and mother's  various dishes, the different restaurants – I would miss it terribly if I worked somewhere else in the world; it would simply be completely different. I put everything that my country gives me into my dishes; I let it flow into my work.
How did business go for you during the crisis? And what influence did it have on your work?
Portugal experienced a major crisis: it was one of the most affected countries in Europe. I started with all my projects when Portugal was in the middle of this crisis. It was a difficult time, but that is precisely why we managed to open up some possibilities that would otherwise have been closed to us. For example, we could rent space at favourable prices. Thanks to the crisis, tourism has boomed over the last few years, which has also helped us to grow.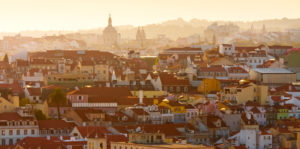 Lisbon. Photo: José Avillez
How will Lisbon develop in the future?
As we continue to grow, tourism will continue to grow. It's important that we try to preserve our identity – I think that is what visitors to Lisbon want. They like original places. We have great food, great weather, lovely people – and we Portuguese do not give up, by no means.
What is so special about the Portuguese mentality?
The Portuguese are great. We try hard to speak with everyone, try to speak their language, we adapt well and are able to deal with difficulties. Especially the young people here travel a lot and are open to new things. This is why many more Portuguese people will be known for their work in the world in the future!
So the Portuguese recipe is to learn in foreign countries, then come back and implement the new knowledge gained here?
I agree. I think we'll continue to travel a lot so that more people will hear about what we have to offer Portuguese for creative projects. Travel allows us to learn new things and, with this knowledge, we can turn Lisbon into an even more wonderful place. There are already many people who just buy apartments here and live here three, four months of the year.
What do you love most about Lisbon?
It's very difficult to decide on one thing. The people who live here are very special and, of course, the city is also bathed in this unique light  – Lisbon is famous for it. What I like very much is the mix of tradition, classic and modern that can be found here.
Where do you find new impulses in Lisbon?
Not necessarily in architecture, which is not really new, but the dynamic of the city is very young and creative. I find you can compare Lisbon with Istanbul – but we are more relaxed and laugh more!
So is saudade, the Portuguese melancholy, just a stereotype?
Saudade does exist, of course, really. It belongs to our identity, just like fado, both of which are part of our language. But gradually, the Portuguese are becoming happier and more open, even if I think that to be introverted and to think about what is happening inside yourself is not exactly the worst thing in the world! I think we are very honest with ourselves and we are Latin at heart – we just have to express ourselves, both good and bad!  But we are not closed off; we love to have guests. The foreigners who live here, we treat them like Portuguese, we don't make a distinction.


How do you express this multifarious inwardness that you have described?

For me cooking is a way to express myself, so through it I communicate with other people. I think I show my passion for cooking, my dishes testify to how much fun I am doing to make other people happy, but they also tell a story, about what I've discovered, and how they relate to traditions Portuguese heritage, they tell of the discoveries my country people have made hundreds of years ago.


What do you want for Lisbon's future?

I wish for the city to continue on as before. And that Lisbon can show what it has to offer without having to bend: that she succeeds in remaining authentic.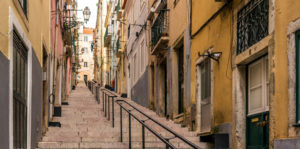 (Visited 81 times, 1 visits today)