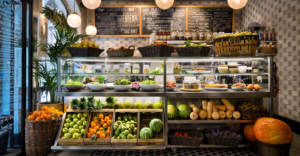 Vegetarian Cuisine at Teresa Carles
Vegetarians, vegans and flexitarians: clean eating has become a trend on Barcelona's restaurant scene and, as it turns out, it doesn't hurt to pay a little more attention to the origin of the ingredients a chef works with. That doesn't mean we have to become fanatics and make clean eating our new religion, just that we might stay a little healthier. To all those who are still skeptical – a visit to Teresa Carles shows that healthy eating no longer means compromising on taste or flavour. If you make an excursion to the Catalonian city and can't imagine a life without a healthy, balanced diet, a visit to this vegetarian restaurant is highly recommended. All the dishes on the menu just taste incredibly good – so good that even militant opponents of the trend will change their minds.
Mother Teresa Carles
The restaurant Teresa in Barcelona was named after the owner's mother. She's been the soul of the company all along and was experimenting with healthy recipes ages before her son's restaurant opened its doors. Long before vegan cuisine became totally trendy in the capitals of Europe, Teresa Carles already gave some thought to vegetarian recipes that are healthy and taste good at the same time. She is also strongly influenced by Catalonian cuisine. Teresa's goal is to use ingredients from her home region as often as possible so that the recipes will continue to taste like her mother's and grandmother's dishes did – only better.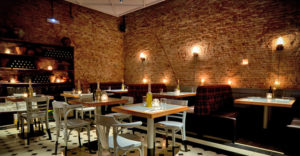 In preparation for starting her own business, Teresa Carles visited various vegetarian restaurants in Europe and the United States, jotting down her experiences and insights. Her innumerable research visits helped her to turn what she saw, tasted and learned into a unique brand. The cold-pressed juices and smoothies, the salads, the gluten-free pastry, even the soups and burgers are healthy and really tasty. That is why, all in all, Teresa Carles has become one of the most popular cafes in Barcelona.
Breakfast at Teresas
Instead of having Breakfast at Tiffany's, I particularly like to go to the Teresa branch called Flax & Kale for breakfast when I have a day off during the week. I really enjoy the atmosphere in the light-flooded room, which reminds me a little of a greenhouse. It's so relaxed and cozy. If I'm in Barcelona and not sitting in the sun in front of Saboc, Flax & Kale is an ideal place for me to work on my blog BOX IN A SUITCASE.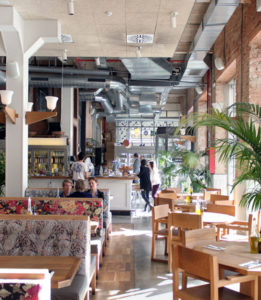 Fans of Teresa Carles can cook her recipes at home: Teresa has published numerous cookbooks and is distributing her smoothie recipes online. But of course, this can't replace a visit to the original restaurant in Barcelona.
(Visited 408 times, 1 visits today)