Francesco Vezzoli meets Prada meets the Centre Pompidou
Francesco Vezzoli is without any doubt one of Italys most glamourous artists – and a favourite of Miuccia Prada. The chief of the fashion brand who is also famous for her love of the arts collaborated with Francesco several times in the past.
Now Prada was collaborating again with the internationally renowned Italian artist for the production of twelve costumes for the "Opéra Pompidou" a live performance he presented on October 19th, 2017 at Centre Pompidou in Paris.
The french museum is celebrating its 40th anniversary this year and has invited Francesco Vezzoli for a unique takeover of the museum during a night titled "Carte Blanche à Francesco Vezzoli".
The Italian artist's visionary world of elaborate references melds with the museum's collection to create "Opéra Pompidou", a series of live art performances staged by Vezzoli. In each scene, a costume made by Prada was featured, bringing the museum's art works to life. In this totally emotional reinterpretation of the modern and contemporary art pieces, the visitor founds himself in a new immersive experience.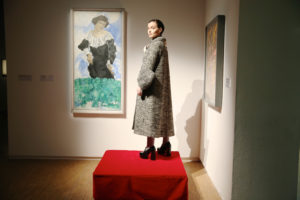 "True works of art are born, in most cases, as gestures of love, anger, passion and desire. Then time covers them with dust and tarnishes them. It increases the symbolic and financial value but it slowly deteriorates the emotional value" sais Vezzoli who always has been interesting in the marriage of art and fashion about his latest work.
"The singers of 'Opéra Pompidou' sing about their love to subjects painted by the greatest masters in the history of art precisely as if the hands of the clock had moved back in time and tonight Marchesa Casati and Niki de Saint Phalle wanted to wear their most audacious clothes and seduce all of the men, even the most reserved."
(Visited 99 times, 1 visits today)